Montgommery Bell State Park
Montgomery Bell Trail
Oct 1,2016
Total Milage Aprox 10.5 Miles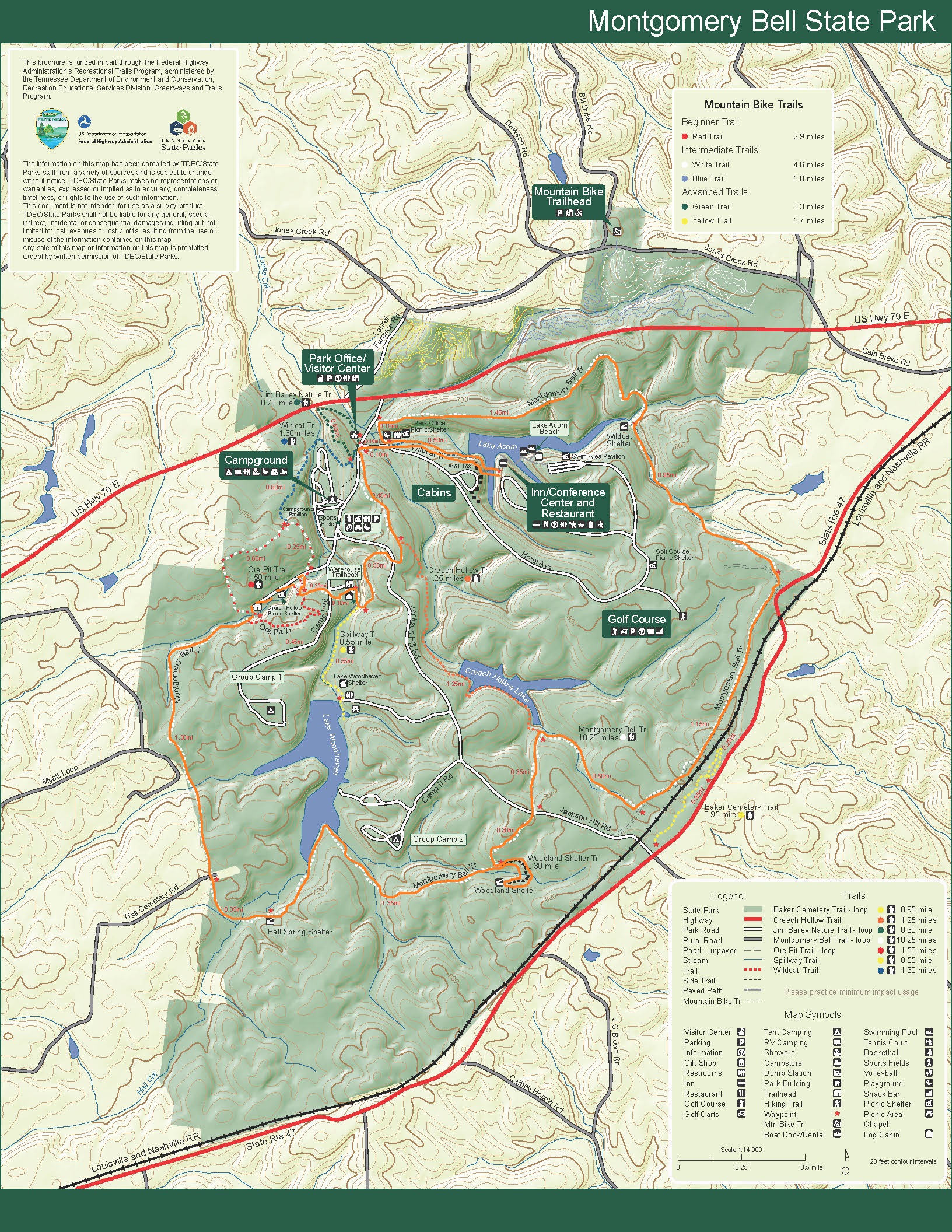 Trail marked in Solid Orange.

How does a person who finished the A.T. over the summer celebrate their birthday? By taking a hike of course!

In truth I didn't even realize it was my birthday until I looked at my phone this morning and saw the date....just goes to show how buisy I have been since coming back from my hike.

This is becoming an anual tradition....go the the ASEE Exec board in Atlanta and stop off for a weekend getaway at a state park on the way home. This year Fall Creek Falls did not have rooms available for Sat night so I did Montgomery Bell. I wanted to check out their backpacking trail.

Just did the loop, nice easy trail, with a few good water sources and, even more surprising, A.T. style shelters...three of them! I was able to do the whole loop in 5 hours or so, even having to stop every little bit to let a runner go bye. Yes my hike overlapped a 7K trail run. It wasn't too bad really but did break the peacefullness of the hike.

It did start off very peaceful. I only saw a few other people. I started off after breakfast at the lodge and headed over the bridge at the west of the lodge to the Wildcat Trail. I turned onto the Montgommery Bell Trail and started hiking it in the clockwise direction. Took a break at the Wildcat Shelter then hiked on. When I crossed the park road, I saw a watering station, but I didn't think anything of it since it was on the road. When I stopped at the Woodland Shelter, during lunch I heard a lot of people on the trail and then put two and two together and realized it was a trail run, not a road run. After getting back on the M.B.T. was when I hit the runners. Probably had to step off for 50+ runners, but it really wasn't too bad since most of the time the trail had enough space to the side to keep hiking while giving the runners the good treadway.

By the time I got to the Minister's cabin and Church, most of the runners were past me, so I only saw a few more past that point. was feeling it towards the end of the hike, especally the feet, but overall I felt pretty good.

This would be a great place to come when feeling homesick for the A.T. but cant get over to the GSMNP for a hike. it is a little under three hours from home and the back country shelters mean I would have to cary very little gear for a quick overnight hike. It is not as scenic as Fall Creek Falls but easier to get to and it has shelters. I will be back.

tTwo other comments....the food seams better here than at Fall Creek. They also had live music last night....a paino player, which made eating by myself almost enjoyable (I usally hate eating at a reasturant by myself).