Mar 4, 2016 - Two hikes in two days....am I nuts. Yesterday it was Herb Parsons Lake, today it is Meeman-Shelby Forest. Did the Chickasaw Bluff Trail: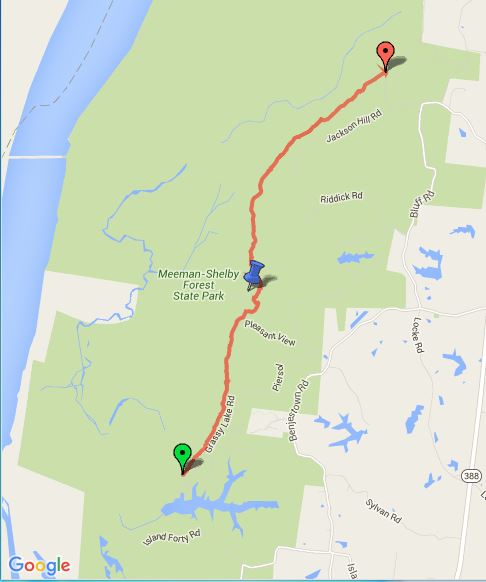 Captured Map

Stats (one way so x2)

Total distance: 8.39 km (5.2 mi) (and they said the whole trail was 4 miles in one direction...ha)
Total time: 2:23:56
Moving time: 1:53:20
Average speed: 3.50 km/h (2.2 mi/h)
Average moving speed: 4.44 km/h (2.8 mi/h)
Max speed: 10.35 km/h (6.4 mi/h)
Average pace: 17:09 min/km (27:36 min/mi)
Average moving pace: 13:30 min/km (21:44 min/mi)
Fastest pace: 5:48 min/km (9:20 min/mi)
Max elevation: 97 m (319 ft)
Min elevation: 35 m (115 ft)
Elevation gain: 278 m (914 ft)
Max grade: 28 %
Min grade: -25 %
Recorded: 3/7/2016 12:54 PM

Started at the Jackson Hill Road crossing of the trail, and turned around before reaching Poplar Tree Lake. Just a bit too much (espcially since I hiked yesterday). Almost ran out of water going out so I filled up at Pioneer Springs (without a water filter, so I hope I do not get sick).

Trail started a bit swampy (the trail starts in low-lands), but then after Woodland Trail Shelter it got up on a bluff and dried out quite a bit.

Did find a dead hawk (a red tail I think). No band, but it was very young. Spotted it by the down that was all over the place near it. Did report it when I bumped into a ranger.

I did bring Bear on the trip, boy were we both dead when we got back to the car!

I did start gettting blisters on my right foot during the hike, realized that my boot was blown out (see pic). Guess I will need a new pair of hiking boots.

Took most of the pics on the way out.....too tired to take pics most of the way back. Did get some nice shots of the snake sunning itself though....