Rice Field Shelter
Day: 72
Mileage: 619

| Miles from Springer | Features | Elevation |
| --- | --- | --- |
| 634.2 | Va. 634, Cross Ave. (2,200') | 2200 |
| 634.6 | Lane Street to Bus. U.S. 460 (1,650') Pearisburg, Va. 24134 Pembroke, Va. Blacksburg, Va. | 1650 |
| 634.7 | Narrows Road, Va. 100 | |
| 635.2 | U.S. 460, Senator Shumate Bridge (east shore) over New River (1,600')Narrows, Va. 24124 | 1600 |
| 638.6 | Hemlock Ridge (2,470') | 2470 |
| 639.1 | Va. 641, Clendennin Road (2,220') | 2220 |
| 639.2 | Pocahontas Road (2,230')...reenter woods | 2230 |
| 640.2 | Stream (2,600') | 2600 |
| 641.3 | Springs (3,200') | 3200 |
| 641.5 | Rice Field Shelter (3,400') ?15.7mS; 12.6mN | 3400 |
06/25/96 8:51 pm

Here, on the jon writing my journel do de do......

But seriously, it was a good day with good company for a change. Started the day having a great breakfast at the Holiday Dinner (aka Annie's I think) with Seeker. Then back to the hotel to pack. Did not get out of the hotel until 1:30pm but everything was cool since checkout was suposed to be at 1pm anyway. The hike was up hill quite a bit, but I took a long break ½ way up and that helped. Seeker moved on, but I am here with Cosmic John who, as Jim 'syd' would say is 'ok he's really ok'.

Nice, new shelter, but too bad the water source is .5 mile away and silty as hell. Also the privey is a tank type and does like to splash.

Still feel tired all the time, John thinks it is diet related (because he had it too and has gone to a better diet to see if that helps), but since I only have 2+ weeks left I don.t think it will matter too much.

Last comment: great views from this shelter!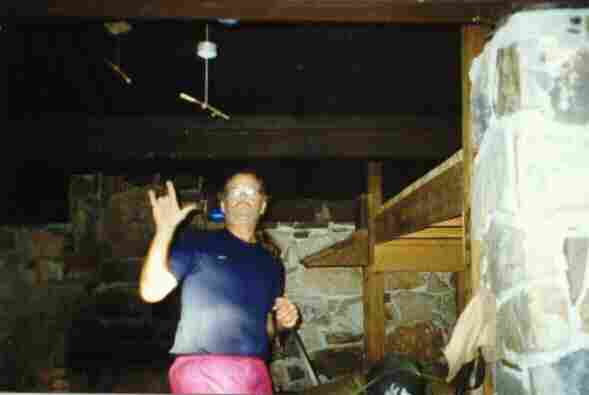 ---


Pine Swamp Branch Shelter
Day: 73
Mileage: 632.9

| Miles from Springer | Features | Elevation |
| --- | --- | --- |
| 641.5 | Rice Field Shelter (3,400') ?15.7mS; 12.6mN | 3400 |
| 643.1 | Campsite and spring (3,450') | 3450 |
| 646.6 | Symms Gap Meadow (3,480') | 3480 |
| 647.6 | Groundhog Trail (3,400') | 3400 |
| 649.2 | Dickerson Gap (3,300') | 3300 |
| 651.4 | Peters Mountain Ridgecrest (3,860') | 3860 |
| 651.6 | Allegheny Trail Junction (3,740') | 3740 |
| 654.1 | Pine Swamp Branch Shelter (2,530') ?12.6mS; 3.9mN | 2530 |
06/26/96 7:14 pm

made it here, but I boy am I tired. Not because of the hike, wich was fairly easy, but I just have no energy. I hope I just have a small bug or something, and not anything major.

As I said, the hike was easy today, and I took a break every hour or so. Even sat and read for a bit.

Here now with a group of Quakers (18 in all) and Cosmic John.

Got bit by something on the back of my right knee when getting water and it still KILLS!

Had a 'shower' and washed out my cloths, thank G-d for good water sources that are near the shelter.

This shelter is dedicated to Robert Trimpi and is very close in design to Trimpi shelter. I wonder why they didn.t just call this one Trimpi Shelter?


---


War Spur Shelter
Day: 74
Mileage: 644.7


| Miles from Springer | Features | Elevation |
| --- | --- | --- |
| 654.4 | Va.635, Stony Creek Valley (2,370')?USFS parking area | 2370 |
| 655.5 | Dismal Branch (2,480') | 2480 |
| 656.5 | Va. 635, Stony Creek (2,450') | 2450 |
| 657.8 | Spring (3,490') | 3490 |
| 658 | Bailey Gap Shelter (3,525') ?3.9mS; 8.8mN | 3525 |
| 661.7 | Va. 613, Mountain Lake Road (3,950') Salt Sulphur Turnpike | 3950 |
| 661.9 | Wind Rock (4,121')?vista | 4121 |
| 663.1 | Campsite and spring (4,000') | 4000 |
| 666.8 | War Spur Shelter (2,340')?8.8mS; 5.8mN | 2340 |

First Register Poetry:

Who is this strange animal, humankind,
Who runs around naming everything,
As thoug that would give it meaning,
Or reveal its mystery?

This creature so detached from what is real,
As to hunt already dead meat in a supermarket,
Or to buy some new wonder chemical,
To spread on his lawn or her toast.

So caught up in its own machination,
As to creat its own reality,
So out of touch with the world,
That it can't even listen anymore,
But to itself.

And yet Morality is dispensed,
As from a roll of toiletpaper,
For all to hear and obey.

The thing itself is before us,
The choice to not see or learn
From it is the root of our folly.

Who is this strong animal, Humankind?

By Botany Boy


06/27/96 8:38 pm

I have realized in the last few days that people are falling off the trail quite quickly now. Crag, I assume quit since he was at The Place for reportedly 1.5 weeks, guess it was the blues. Mo, 'Mrs. Lets Look For Good In Everything' left the trail because of depression, and now Seeker left because of a bad ankle - hopefully to return.

I guess I am doing ok then. I have been depressed for the last few days, as well as extreamly tired, but today I felt a little better. I think I was depressed because I only have a short time left on the trail.

Have done a lot of thinking over the last few days. In some ways I will be glad to go back, but everytime I think about it my mind looses the surenity of the woods. The .Real World. invades and actually clutters my mind with all sorts of things, and looking at them, they all matter very little here. Things like the Troop, looking for a new apartment, whats going on at work, and will they renew the contract matter little to me right now.

I know when I go back I will miss the simplicity of the trail. Where the major desissions of the day include 'what should I have for dinner', 'Should I take a break at the overlook', 'should I get water here', 'should I get up yet'.. ect. ect. ect.....

Things are so fake in the 'real world' everybody is after someting. Everyone pretends to be something they are not. Here the fake fisods (SP!) are gone. People can be taken at face value. It is so refreshing.....I will miss this most of all I think.

But the adventure I have had tis summer will be remembered for a long time. I have learned that my limits are what my mind sets my limits to be. If I think I can do 26 miles I can. I have learned that people are the same were ever they come from. We all need to eat, sleep and shit!

Well I guess I am getting to serious and philisophical toward the end of the hike.

On the lighter side: The mice here are nuts. I can put my light right no them and they don.t even flinch. I think they are planing their revenge for me distroying their nest. I think it is going to be a long night.

06/28/96 12:30 pm

Since I have a pretty easy day, I decided to goof off this morming and be a bum. Getting ready to pack up now. Finished reading 'So Long and Thanks for All the Fish'. The last message from G-d: .We apologize for the Inconvience. was perfect!

Feeling a little better today, but still a little weak (if that is the right word for it, I'm not sure). But today will help tremendosly in regaining my strength.

Last night the two mice that I saw in the early evening whent nuts. They were all over the place. They got their reveng all right. They woke me up twice. In my dreams I heard voices saying they were going to get me, when I awoke the mice were squeeking up a storm. They also started to build a nest in my backpack's side pocket, but I moved my pack to put and end to that. But all in all a very active night!

Well off to pack and do a 5+ mile day, boy I.m burning up the trail now!!!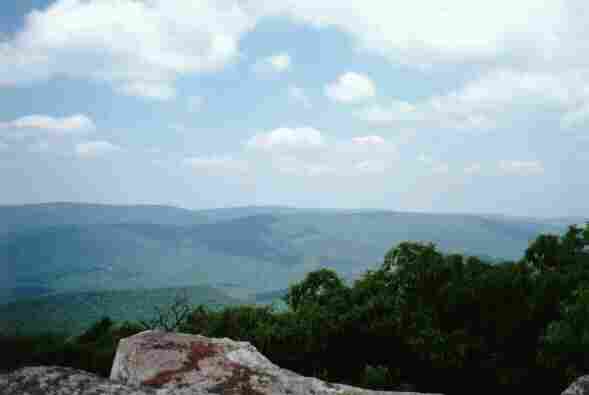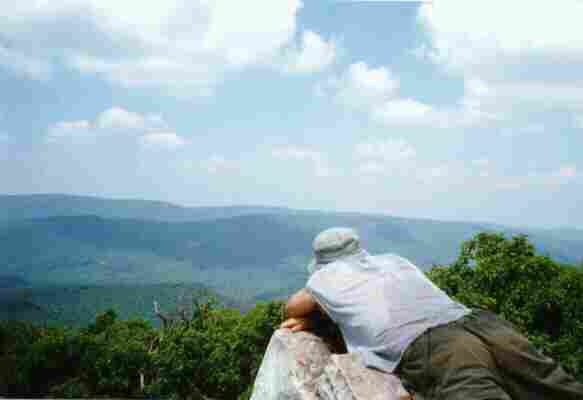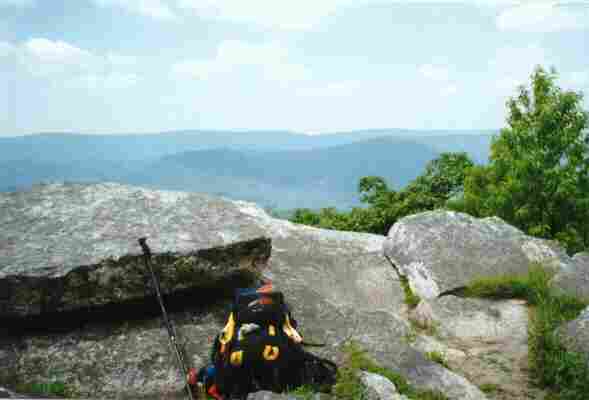 ---


Laurel Creek Shelter
Day: 75
Mileage: 650.6

| Miles from Springer | Features | Elevation |
| --- | --- | --- |
| 667.6 | USFS 156, Johns Creek Valley (2,102') | 2102 |
| 668.6 | Stream (2,700') | 2700 |
| 669.6 | Va. 601, Rocky Gap (3,250') | 3250 |
| 672.6 | Laurel Creek Shelter (2,720') ?5.8mS; 6.7mN | 2720 |
06/28/96 7:11 pm

Well the next group of hikers caught up to me. Here with 4 others now including a couple from Quebec.

Nice, relitively easy hike from War Spur. And the Kelly Knob overview was great. Could have done without the leap of faith nessisary to get to the outermost rocks, but I was proud I made it without too much fear creaping in. Hope the pictures turn out ok.

Ffeel like a bum, only doing 5+ miles when everyone else did 18, but I.ll get over it.

Took a shower in the creek here. It has a perfect waterfall! Boy was the water COLD!! But it felt so good.

Tried a new dinner tonight. Took rice, mushroom gravy, mushrooms and dried beef. It was good and a nice change. Should have done that dinner instead of the mashed potatos.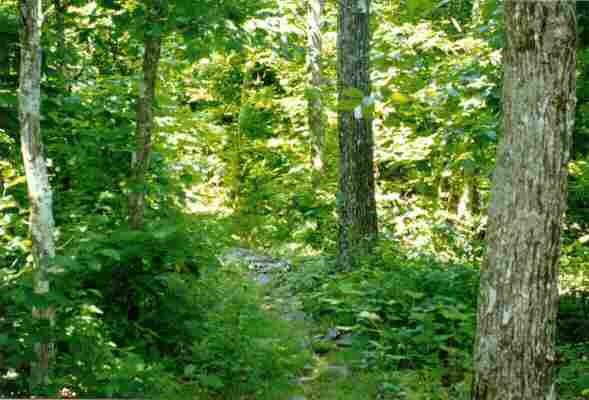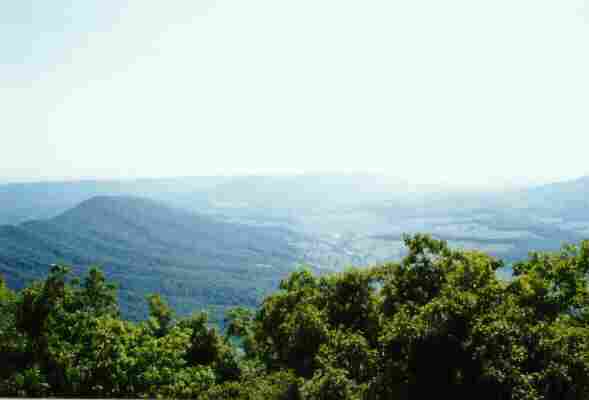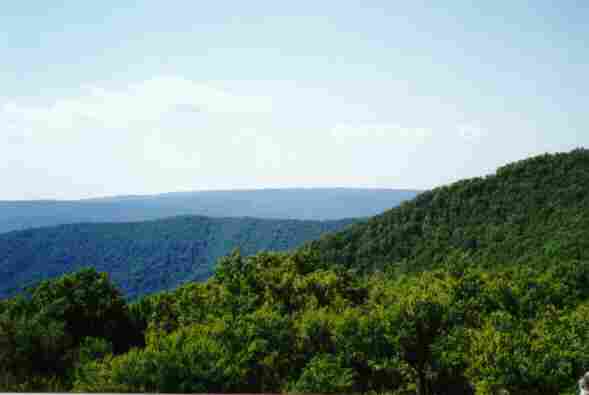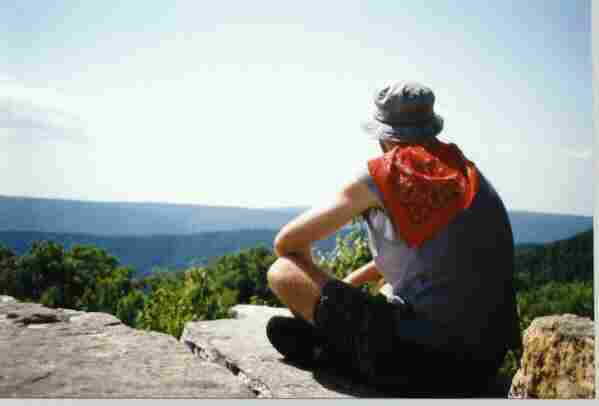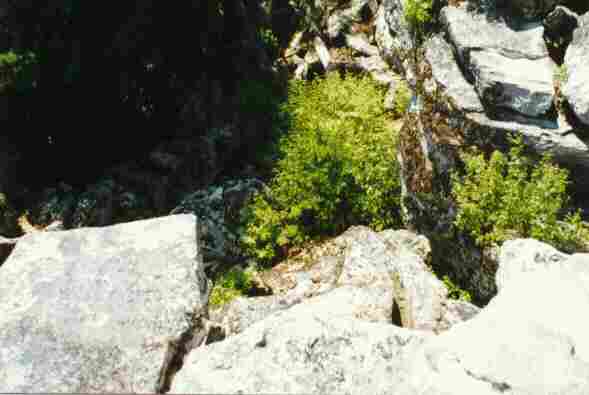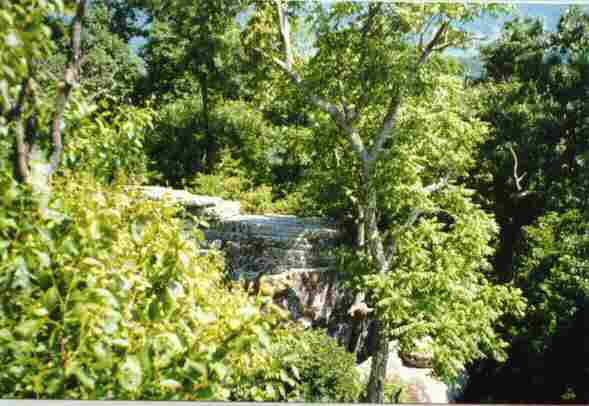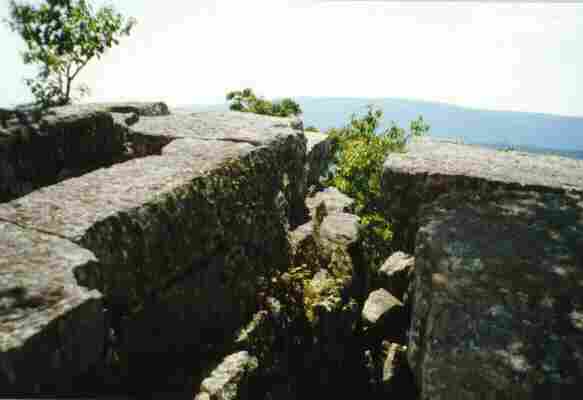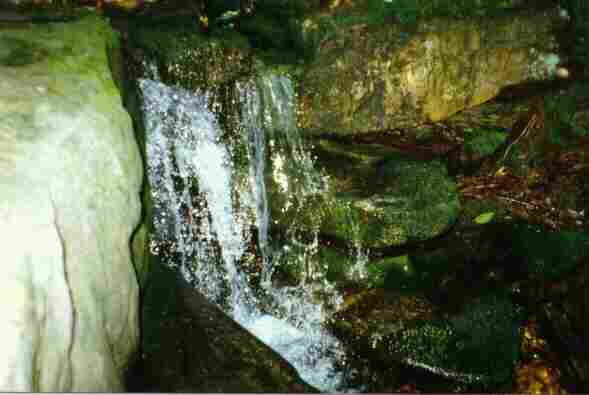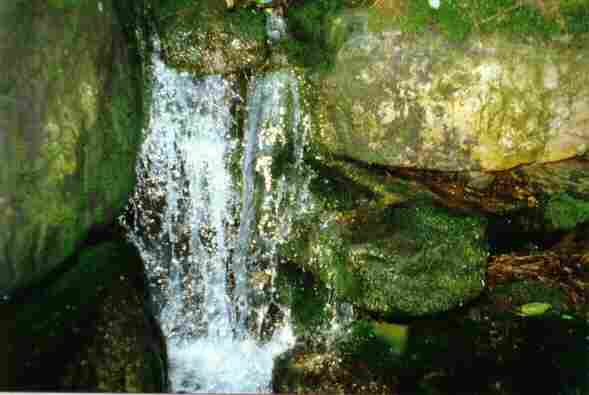 ---


Niday Shelter
Day: 76
Mileage: 662.8

| Miles from Springer | Features | Elevation |
| --- | --- | --- |
| 673.6 | Spring (2,400') | 2400 |
| 675 | Va. 42, Sinking Creek Valley (2,200') | 2200 |
| 675.9 | Va. 630, Sinking Creek (2,100') | 2100 |
| 676.3 | Keffer Oak (2,240') | 2240 |
| 677.5 | Sinking Creek Mountain (south) (3,200') | 3200 |
| 679 | Sarver Hollow Shelter (3,000') ?6.7mS; 6.3mN | 3000 |
| 682.6 | Sinking Creek Mountain (north) (3,490') | 3490 |
| 684.3 | Cabin Branch (2,490') | 2490 |
| 685 | Niday Shelter (1,800')?6.3mS; 10.4mN | 1800 |
06/29/96 7:11 pm

Today, the hiking was a little different. Oh, the Va rollercoster ride still isn.t over, but at least the ridge walk had some nice overviews!

Did go down to see Saver Cabin and got some water there, but I dont have to imagin living in those conditions, I have been for the last 2.8 months. HA HA!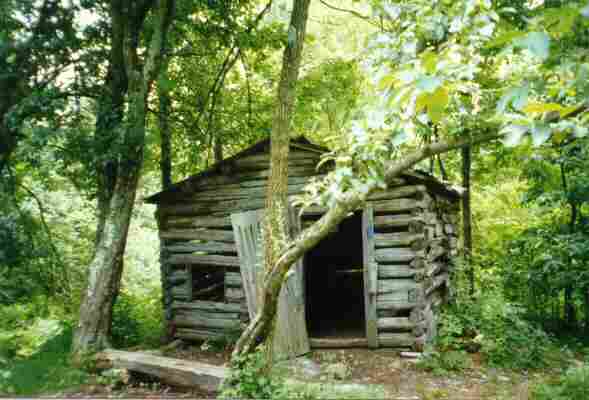 Met some week hikers when I got back to my pack after getting water. A father, son combo from the Va cost. Nice people.

Also picked up my fallen blaze Between 42 and 630. I hope it will survive in my pack for a few more days.

Did over 12 miles today, for the first time in a while. still feel a little low on energy, but I was able to do it no problems.

Nice water source here, so once again I was able to take a 'shower'.

Here with the same group as last night. Hopefully I will not have to wake up 3 times to take a piss like last night.

06/30/96 7:55 am

Had to set up the bivey last night (didn.t in the first place since it was so hot) because of the no-see-ums. They are terible here. Being eaten alive as I thype. Looks like it might actually rain today. If it does, at least I hope it helps cool it down!

Oh I think the Canadian couple are Compass and Needle (Ga -> Va .95 Va -> Md .96).


---


Pickle Branch Shelter
Day: 77
Mileage: 672.6