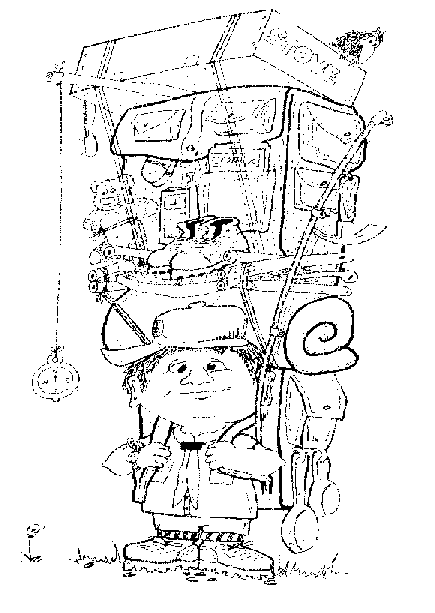 High Tech's '96 Equipment List
Here is my equipment list as it stood at the BEGINING of my '96 hike. I have added further details, comments and things I learned on my GA->VA chunk hike below. If you have any questions, please feel free to email me at
dkohn96@gmail.com
Before you start some disclaimers:
Just because it worked (or didn't work) for me doesn't mean it will (or will not) work for you. Only you can decide what will work for you. This goes, not only for this web page but for everything you read about backpacking. To paraphrase Collin Fletcher, "Try everything, keep what works, throw out the rest"
All pricing listed is the purchase price WHEN I PURCHASED THE ITEM and is not the current price! I left them in because I thought they might be of interest to some readers.
AT Equipment List
Total weight (not including food, water or fuel) = 35 lbs
Snow Leopard Internal Frame Pack

Cat's Meow HV 20deg Sleeping Bag

Therm-a Rest Ultra Lite - Long

Solar Blanket (with 4 extra gromets)

Cook Kit

Colman Stove Case

MSR Stove

Lighter

pot holder

spoon

Fork

Mug

2-11oz fuel bottles

hygiene kit

TP

camp sudz

tooth brush

tooth paste

comb

bandana

camp towel

trowel

Office (in Jansport Wonderland Fanny Pack)

Thru-Hiker's Handbook

MAP(s)

Compass

2 pens

paper

Merrel Wilderness Hiking Boots

Clothing (in OR Hydroseal Stuff Sack size 8"x15")

Ex Oficio long sleeve shirt

2 - Nylon Convertible Pants (shorts)

1 set of pant legs for above

2 pair ultra max soxs

3 pair polypro soxs

fleece sweater

2 T-shirts (Duofold Coolmax Jersey)

rain pants

Gore Tex Jacket

hat

gloves (windstopper polar fleece)

fleece hat

polypro ski mask

polypro long underwear bottoms

gaiters

MISC

Flashlight

50' cord

water bag

water bag #2 for washing stuff

Pur Scout water filter

4 tent stakes

2 - 1qt Nalgene Watter Bottles

pack cover

2 bandanas (that is 2 more)

2 pack tie on straps

ace bandage (4")

sun glasses

Olympus Infinity SuperZoom 3000 camera

(in Sundog Camera/Stereo Pocket)

whistle

Tracks "Sherlock Staff"

Bear Bag (for hanging food)
---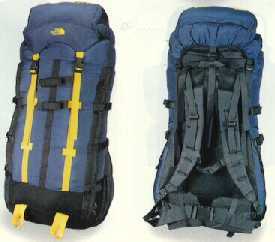 The North Face Snow Leopard Hc
(Purchased at REI on sale for $249.93 reg $325)
Maximum Volume 4900 cu in.
Total weight 6lb 2oz.
Comments: Before owning this backpack, I had an external Jansport, but after trying a friend's internal I fell in love. That is when I bought my Snow Leopard and my AT experience made me fall further in love with it. All my research said to use an external so I was a little concerned about using it, but from what I saw on the trail, people with externals had much more trouble with their packs (both mechanical breaking and discomfort) than those using internal packs. I do have to say that after a while the pack did start to smell, and since most of the padding on the Snow Leopard wasn't removable I couldn't clean them easily. Also during the hike rub marks (and in the end small holes) did developed in the two small hip belt pockets where I kept my water. But, being on the inside they were no big problem.
One other mentionable modification I made to the pack was the addition of a water hose from the water bottle in the hipbelt pocket to the shoulder strap. This gave me instant access to my water, making stopping for a drink un-necessary. Many equipment manufactures, have made these drink tubes standard equipment and I highly recommend having one.
---
Jansport Wonderland Fanny Pack (Forest Green)
(Purchased ar REI for $28.00)
Capacity 475 CU IN. WT 9oz.
Comments: I added item to have something to use for side treks and in town and I am glad I did. During the course of the hike I figured out a method of attaching it to the back of my pack. This gave me an extra "pocket" that I used to hold my lunch, snacks, maps and other items so I wouldn't have to root around in the main compartment of my pack during the course of a day's hiking.
---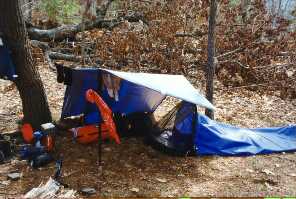 (purchased 2/96 at Campmore on sale for $189.97 reg $229.99)
Weight: 31 oz.(complete)
22 oz.(without poles and netting)
Comments: Yes I thought I would be calustrophobic in this when I bought it, but after testing it out by sleeping in it a number of nights on the floor of my apartment, I found I wasn't. On the AT it was FANTASTIC! It had the advantages of being lightweight, small enough to be set up in a shelter without taking up more space than one hiker should, BUG PROOF (many hikers in shelters were envious of my bugless sleeping) and totally water proof. It also added an extra layer of warmth on those cold days when my sleeping bag alone wouldn't do.
I did have to pitch a small tarp in front of the bivy when I wasn't using it in a shelter to protect my gear and to cook under (hence the 4 tent stakes on the equipment list). But overall I found it much more useful than a tent would have been and will definitely take it along on my next AT hike.
Back to List
---
Tracks "Chief of Staffs" (Purchased at REI for $50)
Replaced by "Sherlock Staff" 4/94 when I sent in the old staff for repair.
Comments: My "Yuppie Stick" (as it was named by my Scout Troop) saved me from falling so many times I couldn't recall them all. I never go hiking without it!
But don't use it as a mono-pod or you will be sorry (see "OH My Camera in the Stories From the Trail section to find out why)
---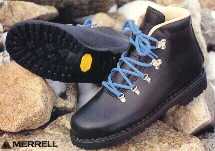 Merrell Wilderness Boots (Mens size 10 Med)
(purchased 9/30 at REI for $225)
Wt 3 lbs 4 oz.
Waterproofed with Nikwax
replaced insoles with Sorbothane Ultra Sole (size E - men 9.5-10.5)
Comments: I have always been a Vasque Skywalk II man myself but in years past I ended up buying a new pair every year or so (after about 200-500 miles on them) and that just wouldn't do for this hike. After about 3 hours at REI (driving the salespeople nuts I am sure) I settled on the Wilderness for sturdiness and comfort. On the AT they did not let me down.
I did re-water proof them every second or third town stop and never had a problem with leaks (only rain dripping into them - see rain paints)
Warning: I learned, right at the end of my hike, that it is important to watch the front of your soles of the boots. Most people have a tendency to kick rocks etc and this part of the sole wears out first. If you let this condition go on, thinking the tread (or bottom of the sole) is ok, and the condition gets too bad, even the best cobbler will not be able to re-sole your boots. A fellow hiker learned this the hard way when he was told his $300 Scarpa's were not re-soleable because he "kicked the toes out".
---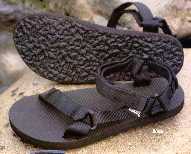 (Purchased at REI for aprox $44.00)
Comments: Comfortable footwear at the end of a 20 mile day is HEAVEN. I chose the Teva's. They were very comfortable and being able to wear socks was nessesary (keep bugs from eating your ankles for one reason). Also in swimming holes were glass was known to be a problem they were handy (although the velcro on my pair came loose in water).
Also the soles on this particular model were not very good. I found on wet surfaces they were too slippery (and fell while getting water on a number of occasions to prove it) so I would get a pair with a better sole next time (one that isn't so flat).
---
Wigwam Gobi Plus undersock (shoe size 9-12)
Wigwam Dry Foot undersock
Wigwam Outdoor Norway wool socks (Shoe size 9-10)
Wigwam Outdoor Expedition socks (shoe size 9-12)
Fox River Hike&Camp (Size Large)
Thorlo Outdoor LT Trekking Crew Socks
And many many others
Comments: As you can see I tried everything and here are some things I learned:
1) The liner and oversock method that is recommended by so many hikers and the method I use to use on every hike failed after the first week on the trail. I learned that the liner sock would bunch up no matter how I put them on and would CAUSE BLISTERS. So all my liner socks were shipped home after the first 2 weeks on the trail.
2) Socks wear out. After about 500 miles I started to get blisters after being blister free for a long time, when I yellow blazed to Traildays I was told my socks were worn out. It wasn't sales hype as the next bit of hiking proved. It makes sense, but I never really thought about it before the salesman said it.
3) I never found a pair of socks I loved, they all had problems and I couldn't find a good combination of comfort vs easy drying. I ended up hiking in damp socks most of the time (I carried three pair with me and washed the ones I wore each evening, they went on the back of my pack the next day to dry, but even after 2 days they usually were still damp).
4) having socks that you wear for non hiking duty are a good idea. I used a polar fleece socks for this and it was HEAVEN putting on semi clean socks after a long day on the trail!
---
MSR Whisper Lite
(Purchased at REI for aprox $47)
WT (No Fuel): 16.7
Peak 1 Stove Cantainer/Cook Set.
(purchased for aprox $17 each)
Comments: This system of carrying an MSR stove in a metal Peak 1 Stove case is not mine but was something I picked up at an REI seminar from a thru hiker and he was right, it is a great system. The stove was protected when in my pack and, since I am not a gourmet chef, the case was big enough my boil water/eat method of trail cooking.
Some minor problems with this method did present themselves though. For one the square shape of the stove case made it awkward to pack and did rub the inside of the pack at times. Also carrying a messy stove in what you are going to cook in did mean washing it out before cooking.
As for fuel I carried 2 - 11 oz bottles and only once got low on fuel near the beginning of the hike (I found that I used a lot more fuel at the beginning of the hike then at the end. This was due to a number of factors including weather, cooking breakfast or not, and most of all efficiently (after your hiker metabolism kicks in you learn how to cook real fast!).
NOTE: I was amazed how many hikers did not know how to use or repair their stoves. One hiker (I met my first day out) hooked up the tank of his MSR stove upside down and wondered why it spilt fuel all over the shelter. Learn everything about your stove before you go. I went so far as to learn how to take my stove apart completely and re-assemble it. I had to make only one repair to my MSR stove (A good cleaning) but fixed 3 other stoves. Also for the weight of the MSR repair kit it is well worth taking.
If you decide on a Colman Feather 400 packstove, be forewarned that it is much harder to fix in the backcountry. Many more tools are required and much more skill. The Colman F400 packstoves do have the advantage of much better flame control and a preferred by gourmet chefs for that reason.
---

(Purchased at REI for $60)
Comments: I have had giardia once and did not want it again so I filtered all my drinking water no matter what the source was. It seems, however, that water filters are THE biggest maintenance item for the hikers that carry them. My PUR Scout became unusable 3 times (but that was fantastic compared to some I saw). One of these problems was repairable in the backcountry, but, since the fix was not in the instruction, I didn't know what the cause was or the fit until I talked to the rep at Trail Days. I ended up teaching this trick to 4 other hikers with non-operational Scouts.
Here are the missing repair instructions: If, when you pump, the water goes up the inlet tube and then right back out the inlet on the down stroke do the following: Open the pump to reveal the cartridge (this procedure is in your instructions). Look for the WIDE band on the bottom of the filter. Pry this up (WARNING: DO NOT USE a blade of a pocket knife for this. Any nick in this band will make the pump useless). Under the band are 4 small holes. Most likely these holes are plugged. Clean them out with water so you can see though them. Then reassemble.
I would, next time, carry a backup incase my filter broke (a chemical treatment of some kind), but on my hike I didn't but was lucky enough to find someone who would lend theirs filter. But remember that many hikers don't carry a filter, so you cannot rely on this borrowing method.
---
Pocket Water Bag (Camp trails)
Comments: This water bag was used primarily for washing clothing. Its open top made it possible place my cloths in the bag and wash them well away from streams (like a good, low impact hiker should). The weight was nothing and the convince was well worth it.
---

(Purchased at REI for $6.50)
Comments: This was THE water transport system of choice (although not necissarily the best). Mine never sprang a major leak but did drip on occasion, but it was a godsend when the water source was quite a way from the shelter and to my knowledge no hiker was without some kind of watersack.
---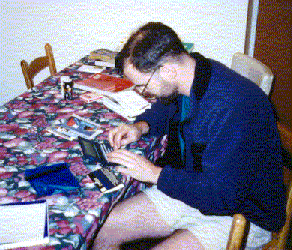 Comments: Why carry a Palmtop computer? Well for the weight of a little more than a book, you can have all the books you can read (downloaded from the internet), all the trail guides (if you have the time to scan them into your computer and have the software to change them into text - as I did), a trail log you can read (especially if your handwriting is as bad as mine), all the phone numbers, addresses etc of all your friends and family and even get/send email. My HP ran for 30+ hours on 2 AA batteries and was dropped, sat on and crushed more than once but never broke. It didn't like the cold to much and the screen would be black if it wasn't warm enough but always came back when it warmed up. The screen was not backlit, which would have help at night but would have killed the batteries anyway. Did it add to MY hike: YES! Should you bring one: well that is up to you, obviously it is not an essential piece of gear.
For more info on high tech items on the AT please read "High Tech Hiking - an essay"
Note: I originally had the palmtop in 2 heavy duty ziplock bags, but found they did not last for more than a few days. I bought a waterproof pouch early in the hike and it worked great and held up pretty well. It was just about to give out at the end of my three month hike but protected the HP very well.
---
Supplex 2/1 Pants/shorts (size L 36-38)
(Purchased 8/95 at Campmore for 36.99)
Comments: These 2 in 1 pants with zip off legs were great. I actually bought two pair and took one pair of the legs and 2 of the shorts (Note: if you choose to do this watch out, the zippers on the legs aren't always the same kind or go in the same direction, test before you buy!) I used these for the beginning part of the hike. I woke up and put on the pants and just before I started hiking I would zip of the legs. When I stopped, on went the legs once again.
Also, the supplex material made it so these would dry in no time! I still do not understand why anyone would hike in jeans (but some still do).
---
REI Supershort III (Large Black)
(purchased 12/95 for $19.00)
(2nd pair purchased 2/96 for $20)
Comments: These glorified swim trunks were my dress of choice after the cooler weather was over. Comfortable and quick drying and they even had pockets that did not interfear with the hipbelt (although you couldn't get into them with the hipbelt on). They took a lot of abuse (sliding down rocks and so on) but didn't breakdown under the abuse.
---
REI M.T.S. Belaclava
(Purchased at REI for aprox $10.00)
Comments: This light weight Belaclava was definitely needed on some cold nights and I was thankful I brought one with me. I did end up shipping it home after the Smokies when the weather was warmer.
NOTE: Even if you want to ship your cold weather gear home WAIT until AFTER THE SMOKIES. Every past hiker gave me that advice and I am glad I listened. I almost didn't but after 2 days of icestorms in the Smokies in JUNE I am glad I didn't
Manzella / Gore Glacier Windstopper Gloves (size Large)
(purchased 11/95 at I.Goldberg for $19.95)
Comments: I didn't use them to often but when I needed them I needed them bad. Carry some kind of gloves with you!
CS Daniel Booney Hat (Size Large - color Cypress)
(purchased 2/96 at REI for $20)
Comments: This cotton like hat was perfect for me. I have tried Gor-tex hats and they never worked for me. I like a hat I can dip into a stream and cool my head for hours, this one did just that!
Duofold Coolmax Jersey (short sleeve tee - size XL color green)
X-gear microclimate cross training apparel
(Purchased 2/96 at I-Goldberge for $15)
(purchased 3 more 2/96 at Campmore for $12.99)
Comments: These shirts where THE shirt of choice for almost every hiker. They dry relatively quick and keep you cool on hot days. You wont make a fashion statement with the limited choice of colors, but who hikes to make a fashion statement!
Ex Officio "Air Strip Long" Shirt (size XL)
(purchased 8/95 at I.Goldberg on sale for $29.88 reg
price 54.95)
Comments: I was glad to have this shirt with me. It was light, fastdrying, well ventilated and fairly bug proof. Everything you could ask for! I don't think I would buy it at the regular price but if you can find one on sale get it. One note though, re-sew all the buttons because, at least in my case, every button fell off at some point.
Marmot Stormlight Jacket (Gore-Tex)
Purchased at EMS on sale for $215.20 (reg price $269.00)
Size: Large
Comments: In my opinion: Don't leave home without a Gore-Tex rain jacket. Pit zips (underarm zippers) are a must for ventilation! Many hikers, I wasn't among them, do sent their raingear home after the smokies, and I will admit that I didn't put it on everytime it rained but I was glad during more than one downpour I didn't.
I owned this jacket for a number of years before my hike, so it was no surprise when it just didn't bead water any more. I used the Nikwax Gore-tex wash in treatment and water beaded off the jacket like it was brand new (and it breathed just as well as as it did before I treated it too).
Eastern Mountain Sports System III Outerwear Pants
(Purchased at EMS on sale for $67.60 reg $84.50)
Comments: Rainpaints were nice but not every hiker brought them, but I found them much better than gaiters (which I tried but left in a shelter along the way because they were pretty useless) in keeping my boots dry. I would get a pair with zippers down the side (which these did not have, making them almost impossible to get over hiking boots and impossible to ventilate). Also I wish I would have tried them on with a pack, the pull string was in a very bad place so I had to ware the rainpants much higher than normal to avoid getting it under the hipbelt.
Lighting
Eveready Sport Gear Compact 2 way light
(purchased 2/96 at Campmore for $6.99)
Features: Adjustable belt clip. Slide out signal mirror. Spare bulb
holder. Lifetime warranty. Takes 2 AA Batteries and Bulb No. 243.
Comments: This flashlight/lantern worked great for me. It never did run out of juice on the trial and was rugged enough to be thrown at a mouse or two. The slide down mirror/reflector made it possible to read at night without the light glare in your eyes and also came in handy when getting cleaned up to hitch hike into town. I was a maglite fanatic until I ran across this light, but now I use nothing else.
Combined First Aid Kit / Repair Kit
case: OR deluxe portable pocket (Med 7"x10" black)
(purchased 2/96 at REI for $6.50)
Two pocket design with mesh front pocket for easy viewing of
items inside
MSR repair tool
tent repair kit
gore-tex patches
sewing kit
2 AA batteries
Spare lighter
pocket knife (one with scissors is preferable)
MSR cleaning tool
50' Parachute cord (good for everything from hanging food to clothes lines - make sure it is HIGH quality stuff - I found some at REI that was tested to 200 lbs that worked great for everything I needed)
eye glass repair screwdriver (if you have to use glasses to see this is a MUST)
small roll of duct tape (if it can save Apollo 13 it is good enough for a thru-hike!)
MSR parts kit
spare light bulb
sewing awl
antihistamine
non-aspirin sinus
ibuprofen (you NEVER HAVE ENOUGH OF THIS!)
lip balm
antibiotic ointment (I found little packets which were great)
band aids
antiseptic towels
sterile pads
Tums
goldbond powder (a must for hiker rashes)
2nd skin and mole skin (neither one seemed to work for me, ended up using duct tape most of the time)
anti-diarrhea medicine
burn jell
vitamins
hydrocortizone (forgot this initially and boy was I sorry when I got poison ivy)
bug repellant (I sent it home and only regretted it once or twice, but the bivy had a lot to do with the decision)
Sun Screen (didn't use it so I left it in a swap box)
Ben Gay (if you can stand the smell, this stuff does help loosen up sore knees and muscles. I got some after I had what I think were shin splints, it seemed to help)
Camera Equipment
Olympus Infinity SuperZoom 3000 [serial # 1261686]
(Purchased at the Camera Shop Inc. for $279.99)
Main Features: Built in 38mm 110mm 3X zoom lens
Weatherproof
Timer
Versatile functions including AF-P mode
to ensure that approaching subjects are
in focus.
Camera/Stereo Pocket
(purchased at REI for $14)
Sun Dog Delux Mini Camera Case
(Purchased 2/96 at Campmore for $14.99)
Holds point 'n shoot cameras, small binoculars or cellular phones.
Belt loop fits regular belts or the waist belt of just about any
pack.
Weather resistant fabric and storm skirt protect contents from bad
weather.
Ultra-Pod Portable Camera Support
(purchased 8/95 at Campmore (mail order) for $7.99)
This camera tripod is lightweight and fully adjustable. An attached
Velcro strap allows you to attach the Ultrapod to a tree, staff or
ski pole for added versatility. Wt 2 oz.
The Bedroom
Therm-a Rest Ultra Lite - Long
Therm-a-Rest Chair Conversion Kit
Cat's Meow HV (The North Face 20 Degree sleeping bag)
(Purchased I. Goldberg on sale $109)
weight aprox 3 lbs
Equinox Polar Fleece Sleeping Bag liner
(Purchased 11/95 at I. Goldberg for $49.95)
With zipper closure and stuff sack. Aprox weight 2 lbs. 8 oz
Comments: A good nights rest can make a break a hiker. So don't skimp on weight and leave the air mattress at home, Those shelter floors are cold, dirty and HARD and you sleep a heck of a lot better with an air mattress under you.
The 20 degree bag was perfect for the first part of the hike. I was only cold on 3 or 4 occasions and used my bivy sack to add a few degrees of warmth. WARNING: Do not under any circumstances send your sleeping bag home BEFORE THE SMOKIES. I almost did, but after the first night I thank God I didn't (before the GSMNP evening lows were probably around 65 or so, but in the park they went below freezing).
I had my sleeping bag in a Granite Gear compression sack. But very soon I learned that, even in the bottom of an internal frame pack, it still didn't protect my sleeping bag from getting wet. I ended up using the old trash bag liner trick.. The compression sack helped the bulk, but when I was forced to start using trashbags to line it this benefit was partially lost. In hindsight, I wish I would have gotten another waterproof bag, like the OR Hydroseal I had for my cloths.
As you might have guessed, I did not carry both the bag liner and sleeping bag, but replace the bag with the liner toward the end of the hike when it was to hot for the sleeping bag.
One thing I wish I did was learn more on how to clean a sleeping bag. After a few weeks of constant use you WILL want to wash it. I muddled though ok, but you might want to read up on the hows and pitfalls of washing BEFORE you go.
The Chair conversion kit was a gift from my parents given to me right before I hit the trail. I thought about bringing one, but then thought the weight wasn't worth it (or the price) so I didn't buy myself one. Boy was I WRONG. It ended up being called the "BARK-O-LOUNGER" by fellow hikers and after letting them try it (although reluctantly) many of them bought one at the first opportunity. If kicking back at the end of a hard day of hiking sounds good to you, buy one, you wont regret it!
All Weather Blanket (Space Blanket)
Size 7' by 4+2/3' Weight 12 oz.
(Purchased at Campmore for $10.99)
Comments: I added 4 grommets in the middle of each side. This allowed it to perform double duty, not only as a ground cloth in shelters, but also as a rain fly for the front of my bivy to cook under and store my gear. Why the manufacture only put grommets on the four corners is beyond me.
Bear Bag (for hanging food)
Comments: At first I took the suggestion of using a mesh "sports equipment" bag for this purpose. But after my first night in a shelter infested with starving mice, I learned this was not such a good idea. The mice actually jumped on to the bag, and being mesh, were able to hold on and eat their way through (No I am not kidding, but I too was skeptical of AT mice stories until that evening at Springer MT Shelter.) Needless to say at the first opportunity I bought 2 OR Stuff sacks ( size number ______________). I also, by luck not design, got two different colors which latter were used to determine which one had breakfast and lunches and which had dinners. Also having food in the two sacks made it much easier to organize my backpack each morning (especially after a food pickup). Not being able to see into these sacks was a small price to pay to keep the mice out.