PA Hike #11 - Blue Rocks Campground to The Pinnacle to Pulpit Rock to Blue Rocks Campground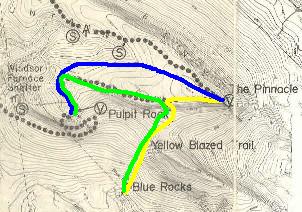 [Approximate route marked]



Blue Rocks Campground
Mileage: 1207.8
April 23, 1994

(From Philmont Shakedown Hike #1 - 719L-3) Our first hike to get ready for Philmont. Unfortunalty only Steve from my troop was able to make it. We drove up and met the guys from Troop 4 at Blue Rocks Campground. After some talking we headed off on the yellow trail to the AT. We then turned off to the Pinnacle. WHAT A VIEW! I heard it was great, but we hit a perfectly clear day so we couls see forever! It was very crowded on the Pinnacle and we even met two other troops from our council. After lunch we headed north on the trail, then we turned off the AT at, what was called the LZ. We 'round hiked' back to the AT just north of Pulpit Rock. We went to the rock, but the rest of the crew would not sit down and figure out our next move. They wanted to cut cross country to their camp. Finally I figured out where the Trail was (thanks to annother day hiker from Blue Rock Campground). Well once they knew we were going in the right direction tention's eased and everyone was happy to get back (especially a yound scout who is not going to Philmont, but came on this hike for his last 1st class requirement.

Overall we hiked 5.5 miles, but only 2 miles on the AT.


---