PA Hike #4 - PA 850 to PA 944 and Back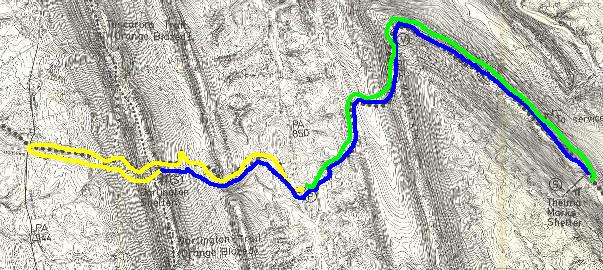 [Day 1 - Yellow, Day 2 - Blue, Day 3 Green]



Darlington Shelter
Mileage: 1107.7
May 9, 1993

Here I am on the AT once again (by myself). I hiked PA Section 9 from PA 850 to Darlington Shelter, had lunch then hiked from the shelter to 944 and back to the shelter overnight. Still out of shape for Philmont...the hill to and from the shelter almost killed me. When I got back to the shelter I fell asleep exhausted. I was only carrying 39 lbs too. Mileage 6.0 WITH HILLS!!!


---


Thelma Marks Shelter
Mileage: 1115

May 10,1993

Hiked to Darlington Shelter to Thelma Marks Shelter (7.2 Miles). Took a good long break at the pipeline overview. Took a little time to sunbathe in the buff...that same sense of freedom from the Bruce Trail was there. Got into the shelter, found out that this was the shelter were the two were killed a few years back. Made me really think about life. Read the letters the family left...made me think even more. Was how so I took a "Bruce Trail" shower...ah the freedom, but, like that shower on the B.T. it was cold. I was latter joined by three other hikers. Great fun talking with the loan man and the two female hikers. I am glad to be surrounded by friendly people, especially after my reflection after findind out about the shelter's history.


---


PA 850
Mileage: 1109.9
May 11, 1993

Hiked 4.9 miles back to the car after a night of little sleep. Having others in the shelter is ok but I am not used to having others sleep in the same room. One last thought: I left this in the Darlington Log: "To all thru-hikers: Remember all of us who's dream you are living."


---