PA Hike #5 - 233 to Chimney Rocks to Richart E Thorpe Shelter to Birch Run Shelter to 233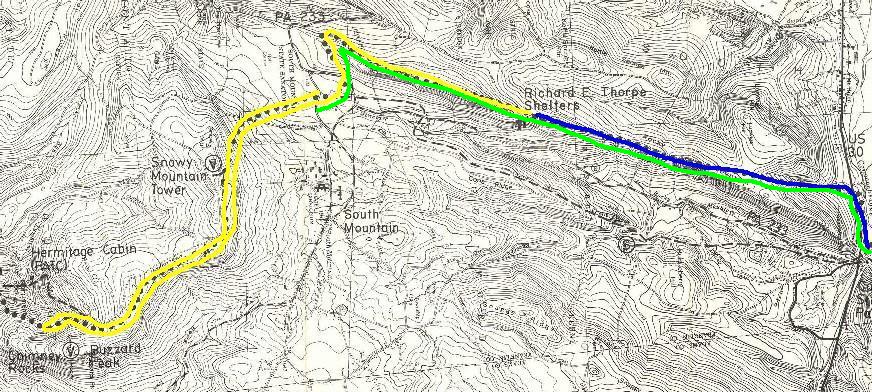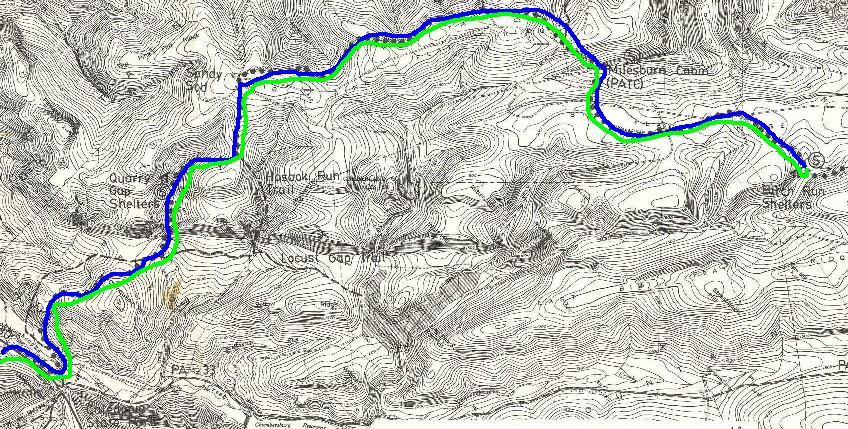 [Day 1 - Yellow, Day 2 - Blue, Day 3 Green]



Rocky Mountain Shelter (AKA Richard E Thorpe Shelter)
Mileage: 1049.8
May 19, 1993

Hiked from PA 233 to Chimney Rocks back to 233 and on to Richard E Thorpe Shelters. (PA Sec 14 mileage 8.5) It was threatening to rain all day but all I got was a few drops. Never saw the blue blaze to Snowy Mountain Shelter...oh well. Learned a few things:
My internal frame is more comfortable than my external.
If you fill up an MSR fuel bottle all the way to the top you have to constantly pump your stove.
I HATE NATES!
It is possible to loose a cane tip (yuppie tip) in the mud.


---


Birch Run Shelters
Mileage: 1063
May 20, 1993

Hiked from Richard E Thorp Shelters to Birch Run Shelters (PA Section 14 + 13 mileage 13.2 miles according to trail guide) God it feels like 5 million. Had to stop at Quarry Gap to fix a blister on my left small toe and my left knee hurts a little...but I am not complaining, the weather was GREAT (Mostly sunny but cool)! Quarry Gap Shelters are in BAD shape. One's roof is gone due to rot and the other's roof overhand got damaged over the winter (but is still ok to sleep in). Just to note: I started hiking at 6:50am and stopped at 4:00pm with a very long break for lunch (my guess about 1.5 hours) Well water is boiling bye...


---


PA233
Mileage: 1048.2
May 21, 1993

Hiked from Birch Run Shelters back to 233 (between Thorpe Shelters and Chimney Rocks). Aprox 14.7 Miles. Great day for hiking again. My blister and knee held up just fine, although the blister did hurt a little. I now know why they say calorie intake is so important. I ate everything in sight and still was hungry. I even took some food left at Quarry Gap as a snack and ate a dehydrated dinner for Lunch. Met a couple from Florida doing a thu-hike. I found it odd that he said he envied me going to Philmont this summer. He said New Mexico was one of his favorite places to hike. One peal of wisdom he imparted "Hike the AT before the knees give out and arthritis sets in." At the last part of the hike I met up with a father, his brother, and "Marky" (the son) The father commented "Marky... one day you'll carry everything with you like this hiker and hike the whole AT" I got a big kick out of that!! Once I got off the trail I washed and went to my folks place in Pittsburgh (Stopping to eat twice along the way...and ate when I got there). Total for trip 26.4 miles.


---